View Updates
Alderleaf Farm
Project Type
Rural, Residential, Educational
Project Summary
Alderleaf Wilderness College's campus is a 15 acre farm that has been implementing an intensive permaculture design plan since 2008. The site includes fish ponds, food forests, chickens, dairy sheep, superadobe earthbag root cellar, homes, cabins, and classrooms.
Project Description
The Alderleaf campus is nestled in the foothills of the Cascade Mountains. It is located above the Skykomish River valley between the towns of Sultan and Monroe, Washington, 30 minutes northeast of Seattle. Our 15 acre property is an evolving model of environmental sustainability. Most of our courses take place on site.
---

The forested portion of our land contains giant mossy cedar and hemlock trees, a large cascading creek, a diversity of wildlife, and several wetlands. It is adjacent to thousands of acres of forest lands with many lakes, streams, and mountains. We're fortunate to have the foothills of the Cascade Mountains in our backyard.



The Alderleaf land houses our classrooms and office, as well as our small farm which is integrating permaculture principles. The farm includes two cabins, two houses, a large barn, beautiful pastures, ponds, garden space, chickens, and fruit trees.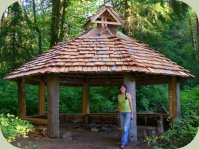 Residents include interns, instructors, and students in the Wilderness Certification Program as well as others interested in being involved with Alderleaf Farm. Residents share a passion for nature, sustainability and community, and often enjoy the opportunity to grow organic food and steward the land.
You can click here or on the graphic below to view a
Basic Map of Alderleaf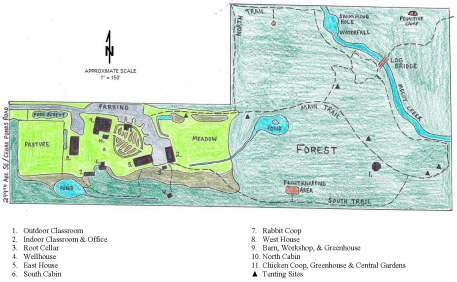 ---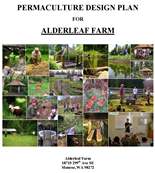 Alderleaf Farm Permaculture Plan: Interested in learning more about our sustainability projects? You can download and view a copy of our most recently updated permaculture plan for Alderleaf Farm (in PDF format). It describes the history, current features, future plans, care, implementation, and other key information for working together towards our vision of sustainability.



---
If you are interested in visiting Alderleaf, please contact us.
Updates