Em 6 de março de 2018 iniciamos a décima terceira turma da Disciplina de permacultura da UFSC.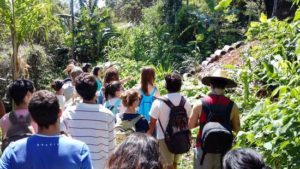 Em 2018/1 está rolando mais um edição da disciplina Introdução à permacultura, que possui o mesmo currículo e carga horária de um Curso de Planejamento Permacultural (Permaculture Design Course – PDC). Oferecida desde 2012, a disciplina vem a cada semestre trazendo mais permacultores instrutores para tornar a formação cada vez mais plural.
As aulas irão até 4 de julho.
Disponível no sistema moodle pelo código GCN7938 – Introdução à permacultura. Os encontros ocorreem nas tardes das terças-feiras na sala CFH-302 e um total de 8 vagas adicionais são definidas ao final do segundo encontro (2ª semana).
Estudante da UFSC deve efetivar sua matrícula na disciplina e comparecer nos dois primeiros encontros para acompanhar a definição do preenchimento das vagas.
Veja mais em http://permacultura.ufsc.br/permacultura-20181/ 
Galeria de fotos desta turma da disciplina: http://galeria.ufsc.br/permacultura/2018_1/
You must be logged in to comment.