This garden is at its bare beginning. Nothing much to see yet. There have been explorations of a few techniques over the year, and I discuss that herein, but the real work will start next year, with new learning I have gained.
Greetings!

First, a history of my little place.  This is a suburban home on 1/20 hectare - 1/8 acre - where I've lived since the late '80s.  I started being the household garden person in 1990 or so.

The place started out being almost all lawn.  I've slowly removed maybe 1/5 of that to replace with flowers, roses, honeysuckle, and later, some native plants- penstamon, fernbush, silver buffaloberry, fun cactuses.

In 2012, I started out on a quest to improve my soil.  It could be worse, been leaving lawn clippings in place. It's not loose and free like I've seen in wild areas, but there are earthworms.  Google searches on improving soil brought me to hugelculture first somehow, then permaculture in general.  I started burying some extra wood refuse, though not yet in a well-planned place.

A mistake made:  Our house gets a daily newspaper, and I hated to see the waste of not using it somehow.  I hatched an idea of burying torn paper in patches around the lawn.  Sometimes it was too thick, making progress slow to start growing things on it.  And all that digging is hard on the knees.  All this is unnecessary, as I was doing it.

Good lesson learned- I saw how plants put there at the right time can outcompete bermuda grass, if you just weed the area a little at the beginning to give the other plants a start.  Bermuda grass is 98% gone in some places!

I planted some squashes and pumpkins, was pleased with their exuberant growth.  In November, I started a swale.  It will be short, 10 meters long or less, but it's fun to think about and explore. 

There are not enough beneficial plants; that's urgently needed.  I've planted the leguminous hairy vetch in any bare spots I had and on the swale, and hope to go all-out with legumes and mulch plants next year, including legume trees and bushes.  I should maybe also round up other mulch materials from elsewhere, might get to that a little late.
September view of the back area-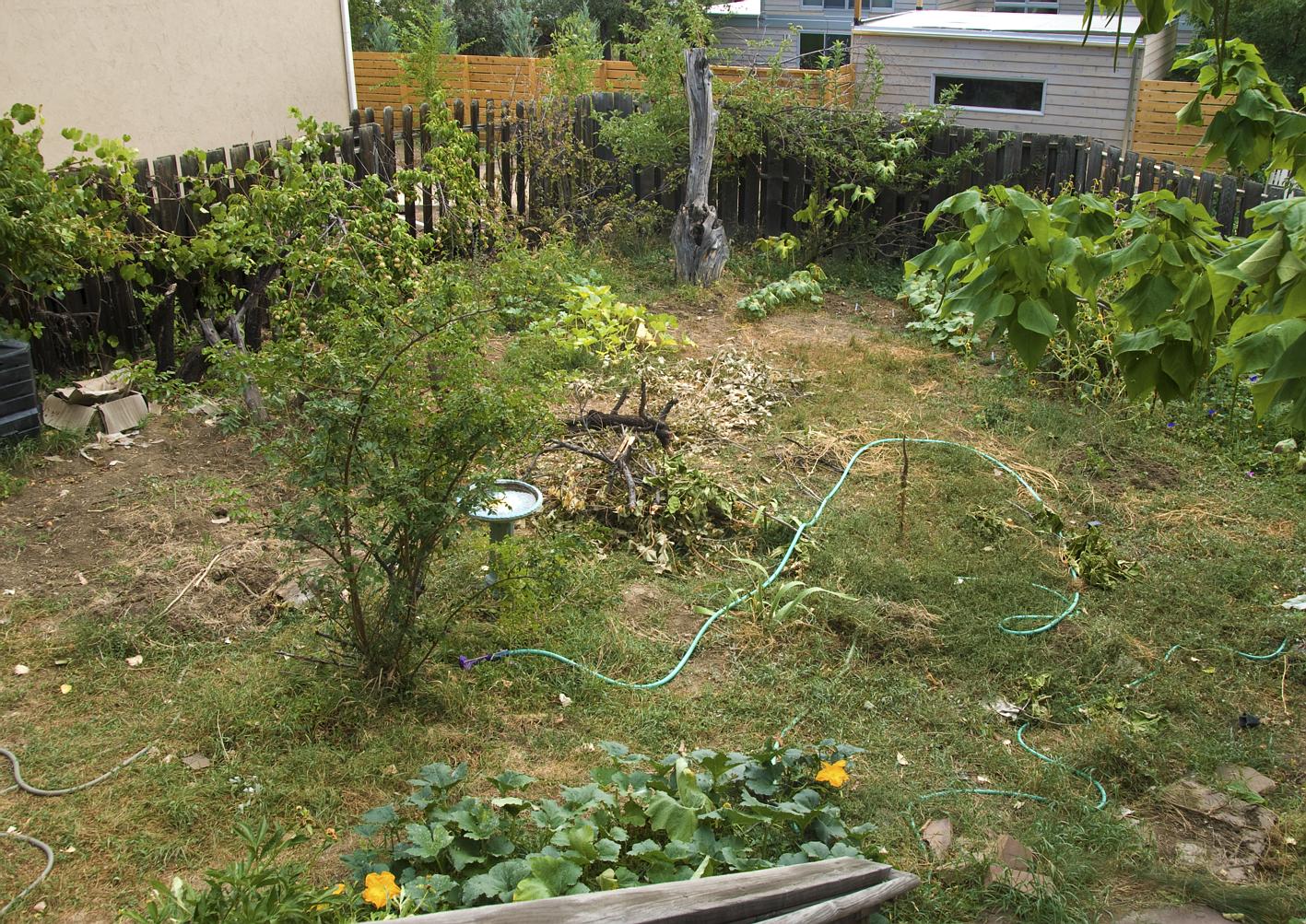 You must be logged in to comment.