This new food forest is like a software project.
In my day job, I'm a computer programmer, and have written several full systems in my career life. My garden has similarities to a software project.
In my experience with software projects, there is a period of full chaos before it all comes together into a beautiful ordered whole. The chaos is from ideas and inputs, considerations of all things related, trials of different approaches. There's a time when everything swirls around- then it coalesces, starts to hang together here and there, and proceeds on to dovetail together til everything fits and mutual support is found.
The garden is pretty much all mess and chaos now. Let's hope the order comes along with time!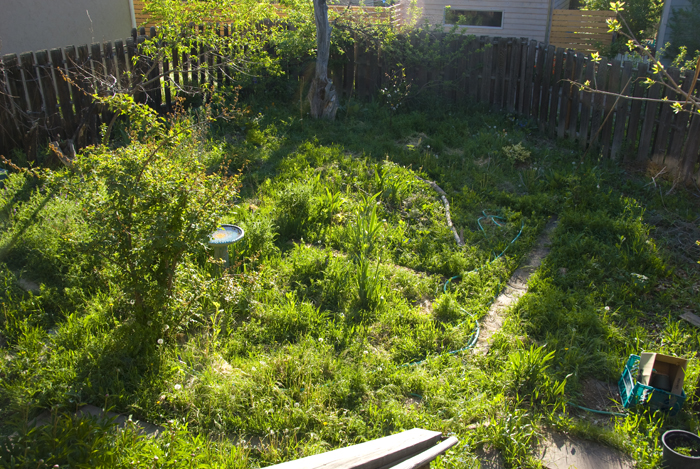 I've put the most effort into tackling the largest back area, which is gently downslope from the house on the east side, but my activity has spilled out into all the garden areas. There are lots of various types of legumes planted everywhere. There's hairy vetch, several types of clover, quite a lot of fava bean plants, various other types of beans that I've forgotten what they are. There's a "globe pea shrub" that I bought from a nursery, and I've started some tiny seedlings for mimosa trees and Siberian pea shrub, also thinleaf alder, which is also nitrogen-fixing.
The seedling adventures have been rather confusing, as I have no experience doing this sort of thing. I've learned that it's important with my awkwardness to get especially good potting soil for seedlings, and to follow instructions for stratifying and scarifying, which are new concepts to me and interesting. I've had some success starting seeds in damp paper towels, though some things get started but don't always make it through transplanting into soil. I'm still learning not to over- or under- water them. And I planted some out too soon and they didn't make it. It's heartbreaking when the little tiny guys die. I've also tried comfrey and blueberries from seed. The blueberries probably won't make it, but it's possibly a too dry climate for them here anyway.
I've had a great time learning about hot composting. My first ever pile was built of straw, some newspaper and a stinky bin full of a winter's worth of kitchen scraps. I found this site very helpful -- Deep Green Permaculture compost page -- http://deepgreenpermaculture.com/diy-instructions/hot-compost-composting-in-18-days/, and the long list of comments there are also invaluable. My pile got a little too hot, up to 70 degrees Celsius, and for a few days I turned it every day to try to keep it from going higher. It has cooled down now to 37 degrees or so but still isn't complete, after about a month. It's taking me a bit longer than the promised 18 days, but I think it will get there, starting to get close. Currently, the pile has quite a lot of plump white myceliums growing in it. Some mushrooms have formed inside it, and are cutely poking out the sides in-between turnings. I look forward to trying this again, it's fun! A thing I've learned- torn newspaper tends to stick together when wet. There is a suggestion in the reference above to crumple sheets into a ball instead; this would work much better I believe.
It looks like I will not be using our power mower this year, for the first time ever. There are too many other plants now in amongst the grass, also twigs and small logs, which I am laying out here and there on contour. I'm finding it quite workable to use a small Japanese hand sickle instead of the mower. I hope to replace all grass in all but a circular meadow-like area in the front section. The grass replacing is coming along- the hairy vetch and other plants have started taking over. I've learned to sharpen and clean my sickle, thanks to many youtube videos available that explain such things.
I decided one mini-swale I had dug was too wide and in the wrong place. I filled it in with branches and put some dirt over that. It's now a rather nice shallow bowl-like flat area. I dug a narrower, ditch-like short swale a little higher up; I think that's better. A small place like this, you can change your mind about where things go! I'm planning a frog pond in my south side area.
I've put boards out in places to walk on for now, to try not to compact the soil too much. I haven't decided where walkways might go yet, and also I want fungi under the ground to be free to communicate with each other. I'm considering stepping stones and boards rather than solid walkways.
Here are some more photos to close. These photos are just a couple of weeks old, and the place has grown up quite a bit already in the time since then, all of a sudden. The vetches are blooming and more and more bees are visiting them.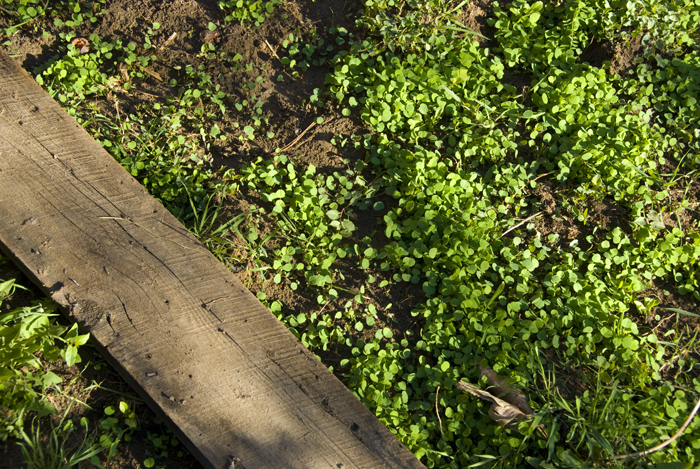 Board and clover
Fava beans and clover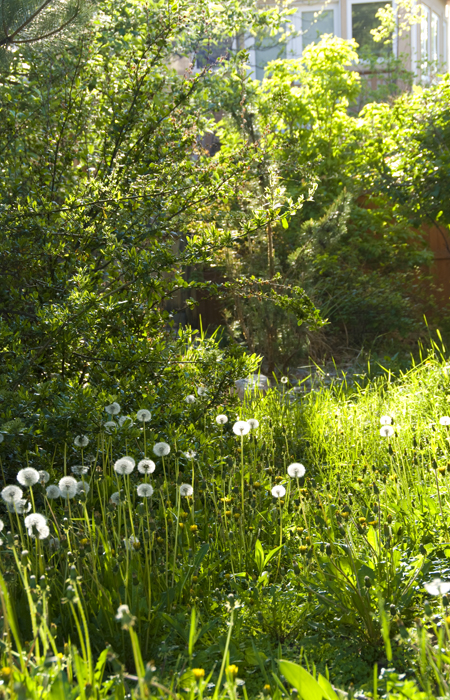 Dandelions now allowed!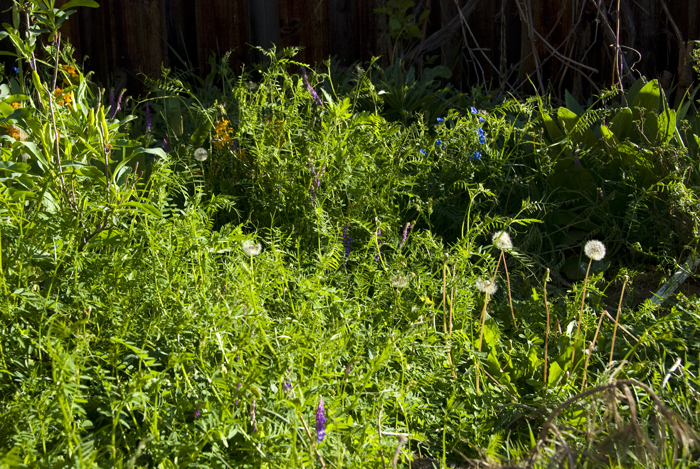 Vetch, dandelion, wallflowers, forget-me-nots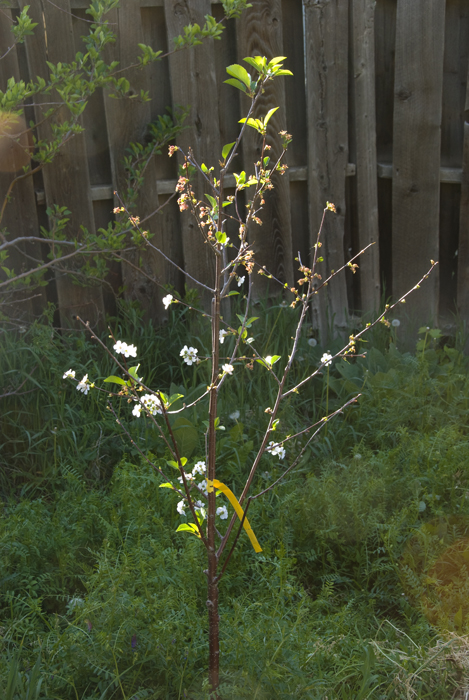 Little sour cherry tree
Clover and stepping stone
You must be logged in to comment.