Integrating curriculum with local community and cultural benefit. Learning with a strong focus on foundational understandings leading to appropriate practical applications.
Learn all about sustainability and receive your Permaculture Design Certificate in the setting of the sacred city of Bodghaya and its many monasteries, pilgrims and seekers who travel from all over the world to this place of the Buddha's Enlightenment. Do hands-on projects, face challenging exercises, do a permaculture design, and learn about the many facets of creating a sustainable lifestyle while benefiting the local community and the efforts for sustainability in Bodhgaya. This is a full immersion experience that will change your outlook and your life forever, as you begin to build a life of resiliency.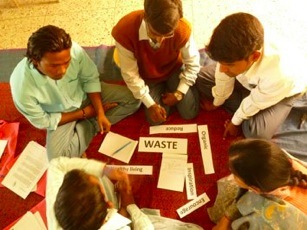 Using a variety of learning techniques and strategies this course presents Permaculture as an integrated design approach to create sustainable human habitat. Course time will consist of traditional lectures, guest presentations, group discussions, games, exercises, hands-on projects, photos, movies and site visits. While we will focus on land systems, many discussions and examples will be explored of applications in the 'Invisible Structures'. These are the social, cultural, political, and economic structures we create as humans that powerfully shape much of our world today. Not only will the course be about Permaculture, but it will also model it by its structure and the environment we create together during the course.
 During the latter part of the course design teams will be formed and given real life design assignments that are relevant to the course venue. The course will culminate with each team giving presentations of their designs to the class and interested local people and groups. These designs will be left with venue to become valuable resources for them. Elements to whole sections of past student designs have been incorporated by many sites were this course has been hosted.
 Join this course and be prepared for  a life changing experience which will leave you much more prepared to respond to the global changes that are starting to happen with  solutions, resiliency, and compassion.
Instructor: Rico Zook
For more info and to registar go to: http://www.livingmandala.com/Living_Mandala/Permaculture_Design_Certification_Course_India_2012.html
You must be logged in to comment.