Permaculture Design Certificate Course with Practical Applications, 3-17 September, Izmir, Urla, Turkiye. The course is open to international participants. Registration started at www.drpermaculture.org. Course will be given in English.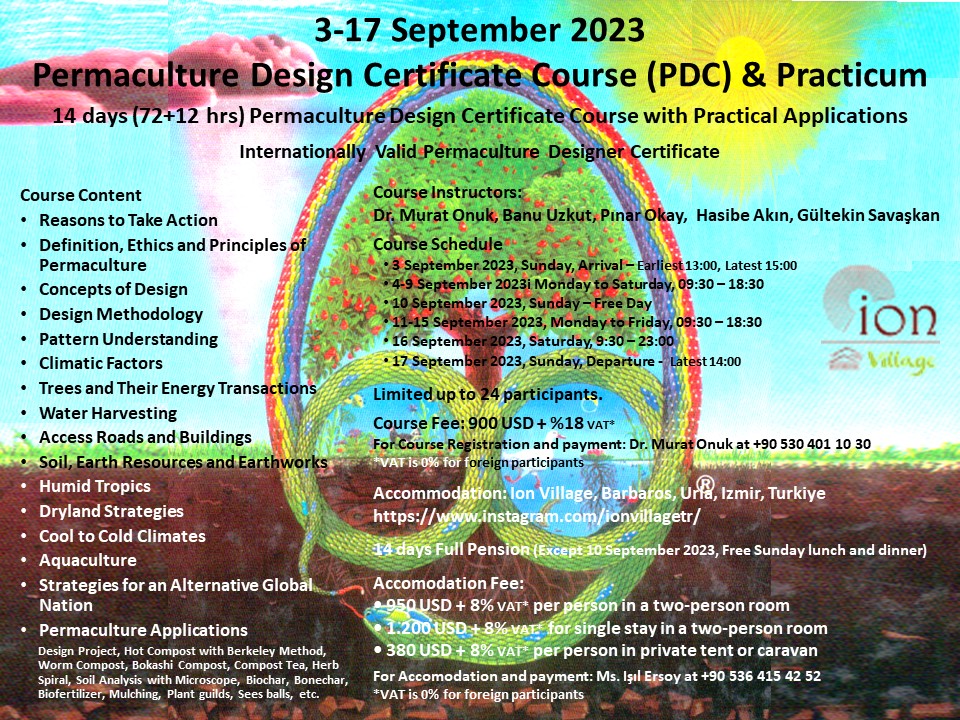 This summer I planned three face-to-face 12+2 days extended PDC courses with the addition of 2 days practical advanced soil and land applications like different compost techniques, compost teas, biochar, bonechar, biofertilizer, etc.
1st face-to-face course will be at Izmir, Tıre, Naturalife Farm House between June 25 - July 9. 2nd one will be again in Tire or Sihirli Tohumlar Permaculture Farm in Saray, Tekirdag between July 30 - August 13. Last one will be an international course in English at Ion Village, Urla, Izmir between September 3-17, 2023. I also planned a 4 days Permaculture Practicum at Tire, Naturalife Farm House between August 30 - September 2.
The details and the registration form of my international English PDC course can be found at my web site www.drpermaculture.org. Interested ones can reach me at [email protected] or +90 530 401130.
This will be a wonderful summer meeting lots of nature lovers willing to learn Permaculture.
Warm regards from Izmir, Turkey.
Dr. Murat Onuk - Dr. Permaculture
www.drpermaculture.org
You must be logged in to comment.