Below zero F temperatures, -35 with wind chill. But winter is not over yet...
In my possesion are seven hives, five of which are in a shed, with two left out in the elements. This winter I tried different techniques, as last year all but one hive succumbed to mold issues and mice.
In response to learning the air inside the hives, but outside the cluster, is the same temperature as outside the hive, prompted changes as leaving the screened bottom boards under the hives for improved air flow. Then no inner cover directly over the frames, instead using pillows stuffed with cedar shavings to soak up condensation. Lastly, I hid a top entrance under the outer cover to keep out the mice. So far so good, but there is a lot of cold winter yet to come. I'm hoping!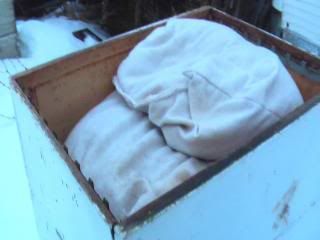 Two pillows totally cover the frames.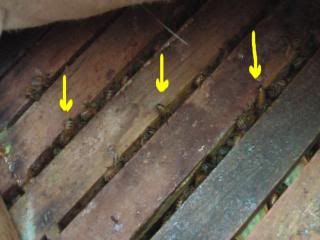 You can see at the arrows a honey bee's defensive posture!
You must be logged in to comment.